Sigifredo Camacho is an Ecuadorian abstract artist and sculptor. Specialising in large abstract wall art and murals, Sigifredo's work has been exhibited globally and is present in both public and private collections, including the Vatican and United Nations in Geneva. He currently lives in Italy and works from his studio near Pietrasanta, Tuscany.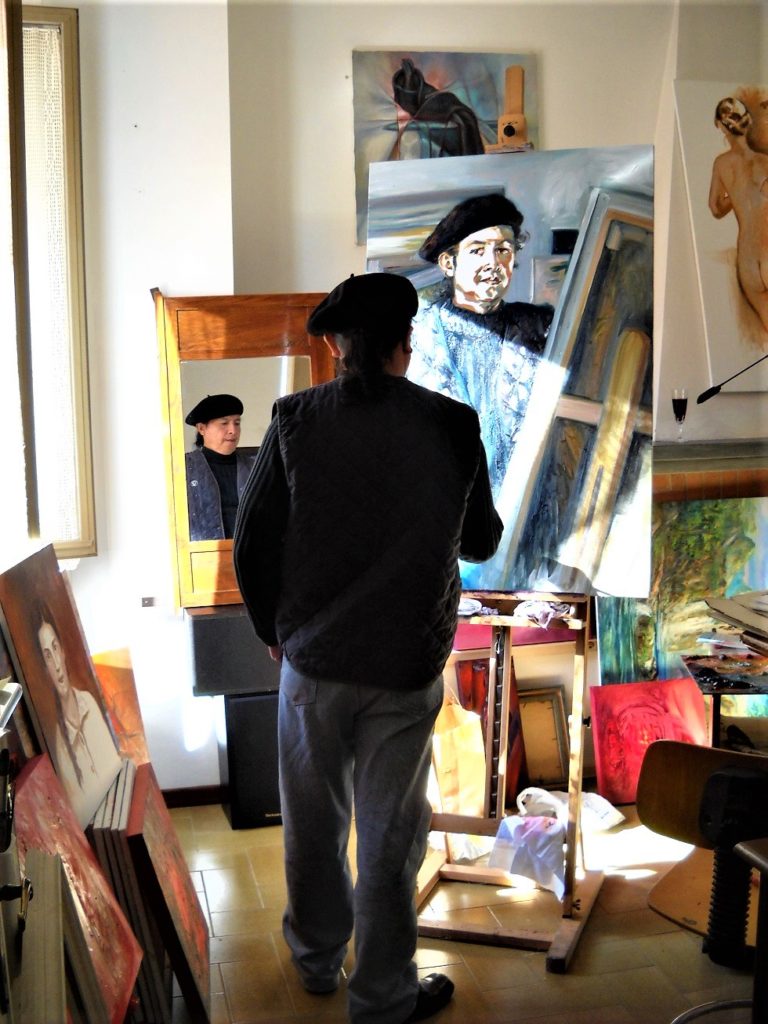 ---
Sigifredo was born in Loja – Ecuador in July 1956.
He graduated from the Fine Art Faculty of the Particular Technical University of Loja. He was a lecturer at the same University between 1980 and 1989.
Sigifredo moved to Quito in 1989 and became one of the most recognised plastic artists in Ecuador, landing commissions for painting and portraits of prestigious personalities of the local scene.
His first exhibition in Europe materialised in 2006. He took part in a group exhibition. He joined five other italian artists in a collective exhibition in the Contemporary Art Gallery in Pisa.
In 2008, Sigifredo visited Italy for the second time this time joined by Ecuadorian artists, members of "ECUA EXPONDILUZ" a pictorial artistic group. They realised the exhibition named "From the Andes to the Apennines" in Pietrasanta.
Two years later he was invited by Art Critic Lodovico Gierut to take part in the group exhibition "Artist interpret Saint Rainerius". The saint patron of Pisa and patronsaint of travellers. It is during this exhibition that Lodovico Gierut recognised in Sigifredo "all the versatility of a true artist".
By 2011 Sigifredo moved to Saravezza, Toscana to fulfill his lifelong dream of creating a series of sculptures, using the world famous Carrara marble local to the area.
He undertakes a graduate degree in Accademia di Belle Arti di Carrara obtaining a Masters degree in Sculpture in 2014.
During this period, he hosted his first solo exhibition in Italy, "Via Crucis of the Migrants" in Museo San Bartolomeo de la Isola Tiberina in Rome.
Also, in July 2013 he was invited realise an artistic tour in Los Angeles, United States of America.
In 2015 he realised a series of exhibitions around Europe where he received a multitude of positive criticism in places like Oslo, Varsovia, The United Nations in Geneva and Genoa.
The following year, he continued his European tour visiting Spain and Germany.
In 2017 he hosts a personal exhibition in Sala delle Grasce for the emerging artists of Pietrasanta.
His next tour took place in South East Asia. In 2018 he exhibited in Indonesia and Malaysia.
In 2019 he is invited to take part in the Third World Summit of the Arts for Peace and Life in Quito. He took the opportunity of this visit to his homeland to unveil a live performance of his work denominated "Analog Chromatism" – Musical Brushstrokes with fellow artists Juan Castro, pianist and Pablo Ruiz, poet.
To date he is planning his tour around the UK for autumn of 2021.
His paintings are currently being exhibited in various museums in Italy, The Vatican City, Poland, Indonesia, Germany, Malaysia and private collections.
Pietrasanta, February 2020.
-Sigifredo-